Trophies and Awards 2023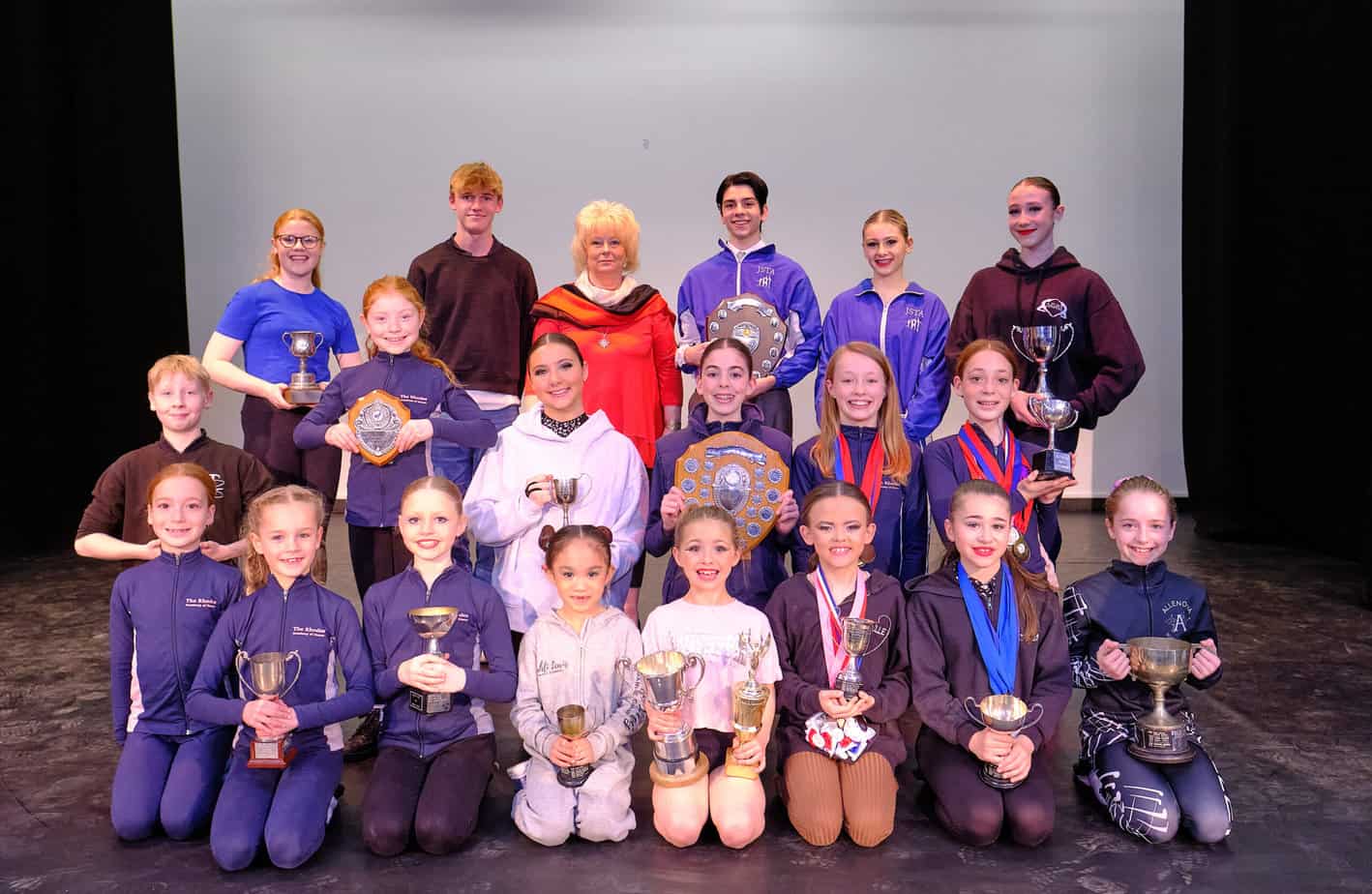 Aggregates
| | |
| --- | --- |
| Classical 3 Dances | Modern 3 Dances |
| A – Willow Crabtree | A – Blousi Bennetts |
| B – Camilla Smith | B – Amelia Nash |
| C – Thea Rich Spice | C – Evie Davies |
| D – Mia Byers | D – Darcey Burt |
| E – Maisy Savage | E – Louisa Best |
Highest Mark
Junior Duet
Bella Hannaway, Isla Harvey
Inter Duet
Sam Kerr Elliott, George Mallinson
Senior Duet
Maisy Savage, Lousia Best
Junior Trio/Quartet
Rosie Zhang, Florence Haswell, Olivia Stephenson
Inter Trio/Quartet
Alexis Gilbert, Ruby Brooke, Aaliyah Arbee Harris
Charlotte Schouten, Aaliya Arbee Harris, Holly Davies
Senior Trio/Quartet
Ruby Gosling, Orlaith Costello, Abigail Ford, Harriet Sentence
Junior Group
The Rhodes Academy of Dance
Inter Group
The Rhodes Academy of Dance
Senior Group
Zoe Pennington Dance Studios
Adjudicator's Choice
| | |
| --- | --- |
| Pre Junior Section | Sienna Lim |
| A Section | Willow Crabtree |
| B Section | Florence Haswell |
| C Section | Sasha Watson-Lobo |
| D Section | Olivia Keating |
| E Section | Maisy Savage |
| Jean Brown Musicality | Ariana Manders |
| Joan Selley Memorable Performance | Antonio Clemente |
| Bursary Runner Up | Sasha Watson-Lobo |
| Bursary Winner | Antonio Clemente |
We were able once again to hold our fantastic bursary class for our senior competitors.
Awards totalling £500 were competed for to be used to assist with further dance training, £300 to the winner and £200 to the runner up of our bursary class.
1st place winners from classes C, D and E were automatically eligible to compete again on the final day of the festival for the bursary. If a dancer wins more than one class, they will choose which one of their dances they would like to perform.The committee may invite 2nd place winners to compete, depending on numbers.