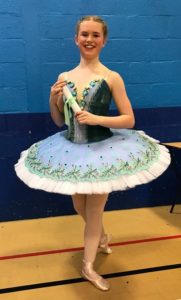 Zara Scott – Winner
Hi Lynn,
I just wanted to say a huge thank you for the £300 bursary for Zara which went into my bank account this morning. This is excellent timing as Zara has just been accepted onto a Vaganova "Masters of Ballet" summer school at Sadlers Wells in August! We are planning to put some of the money towards this, some to buy a new pair of pointe shoes and Zara has chosen a pair of warm up booties for a personal present for herself.
Your event gave us all such joy (Zara's Grandmother and Ballet teacher came too) and has given Zara a lot of confidence in her dancing. I thought the standard was amazing so she felt very lucky. Zara is hoping to make a career out of ballet so it was a great boost for her and a lovely bonus for the 'payer of dance bills' which would be me!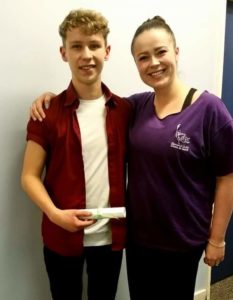 Kieran Jefferies – Runner-up
Good Afternoon.
I thought you might like to know how Kieran used the Bursary award he received from you last year and what he has achieved during the last 12 months. We split the money between 2 summer schools, Urdang College and Bird College. He did the pre audition Summer course with The Urdang Academy (5 Days). This course focused on perfecting technique as well as preparing for Audition's. He found this very interesting and challenging, but above all it has prepared him for what he should expect during an audition process. He then attended a residential course at Bird Summer School (5 days). This was truly inspirational for Kieran. He worked extremely hard and his efforts were rewarded with a Commendation for his attitude and work ethic. He loved this course and is returning this Summer for another week. Kieran has continued to work hard during the year and has attended many workshops with other Colleges and the "Can You Dance Super Convention" in Liverpool. He has been approached by Wilkes Academy and Performers College to train with them as an associate. He attends monthly training at Performers and has been offered a free audition for September 2020 entry. He also attends Wilkes on a Monthly programme but has just been approached to attend weekly classes with Dane Bates, Rosina Andrews and Mark Webb. He continues his training with Stagebox in London and has been there this week, which is why he hasn't been at this year's festival. He is attending another residential course next week with Laine Theatre Arts. All this alongside his studying of 3 A levels at College!!!
Thankyou for awarding him the Bursary award last year, it truly has inspired him. He has had a fantastic year and is very grateful to Slough Festival for allowing him to enjoy some amazing opportunities.